No Comments
Ferrari SF90 XX Stradale And Spider Revealed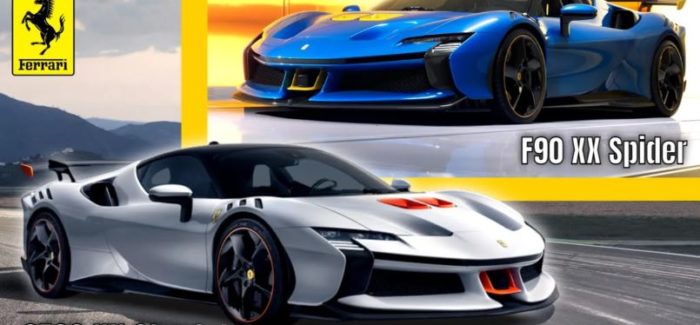 Ferrari has introduced two groundbreaking models, the SF90 XX Stradale and SF90 XX Spider, which offer an exceptional driving experience both on the track and on public roads. Limited in production, with only 799 hardtops and 599 droptops available, these vehicles deliver impressive power and performance.
Equipped with a twin-turbo 4.0-liter V8 engine, supported by three electric motors, the SF90 XX Stradale and SF90 XX Spider boast a combined power output of 1,016 horsepower, surpassing the standard SF90 Stradale. The V8 engine in the SF90 XX Stradale alone produces 786 horsepower, thanks to advancements such as new pistons and polished inlet and exhaust ducts. Additionally, the elimination of the secondary air system has reduced weight by 7.72 pounds.
The electric motors have also been upgraded, providing a total output of 229 horsepower. With a battery capacity of 7.9 kilowatt-hours, these models offer an electric-only range of 15.53 miles and a top speed of 84 mph. In Qualifying driving mode, an extra boost function from the electric motors enhances power delivery when exiting corners, resulting in improved lap times.
Both models feature an eight-speed dual-clutch transmission with revised software, producing a distinctive gear change noise similar to the high-rev exhaust note. Acceleration is astonishing, with a 0-62 mph time of 2.3 seconds and a top speed of 199 mph.
Ferrari has also prioritized braking performance, implementing redesigned front calipers for better cooling and enlarging the rear rotors to 390 millimeters. The integration of an ABS EVO controller and a 6W-CDS sensor ensures precise braking distribution based on the vehicle's speed.
Design-wise, the SF90 XX Stradale exhibits a more aggressive appearance, featuring a larger front splitter and additional aero elements. These modifications enhance airflow and generate over 99 pounds of downforce at 155 mph. Interior changes are subtle but refined, including an Alcantara dashboard, carbon-fiber trim, and an optimized gearshift selector position.
For those seeking the thrill of open-top driving, the SF90 XX Spider offers a retractable roof that can be operated in just 14 seconds.
In summary, Ferrari's SF90 XX Stradale and SF90 XX Spider models redefine performance on both the track and the road. With their powerful engines, lightning-fast acceleration, precise braking, and aerodynamic enhancements, these limited-production vehicles promise an exhilarating driving experience. Combined with their striking design and luxurious interior, the SF90 XX Stradale and SF90 XX Spider embody the pinnacle of automotive excellence.
Today's Other Videos: