No Comments
2025 Toyota Camry Revealed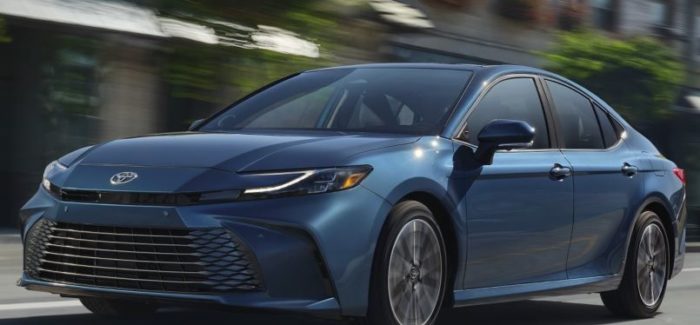 The 2025 Toyota Camry represents a significant evolution in Toyota's mid-size sedan lineup. Here are some key features and changes for this model:
Hybrid Electric Vehicle (HEV): In alignment with Toyota's commitment to electrification, the 2025 Camry will be exclusively available as a Hybrid Electric Vehicle. This shift marks a significant move towards combining power and fuel efficiency in their popular sedan model.
Ninth Generation Design: The 2025 model ushers in the ninth generation of the Camry, featuring a hybrid-only option for the first time. This change reflects a broader industry trend towards hybrid and electric vehicles.
Advanced Safety Systems: The new Camry will come equipped with an array of advanced safety systems, including Toyota's Safety Sense 3.0. This suite includes features like a pre-collision system with pedestrian detection and full-speed dynamic radar, enhancing the vehicle's safety profile.
On-Demand All-Wheel Drive: Another notable addition to the 2025 Camry is the introduction of on-demand all-wheel drive (AWD) for the hybrid model. This feature offers improved driving dynamics and versatility, especially in varying road conditions.
No Conventional Gas Engines: Aligning with its hybrid-only approach, the 2025 Camry will not offer any conventional gas-burning engines, even as an option. This decision underscores Toyota's commitment to hybrid technology and its role in mainstream automotive offerings.
These features collectively signify Toyota's ongoing efforts to innovate and adapt to the evolving demands and preferences of the automotive market, particularly in terms of sustainability and efficiency.
Today's Other Videos: