No Comments
2024 Mercedes-AMG GT 63 4MATIC+ Coupe in Spectral Blue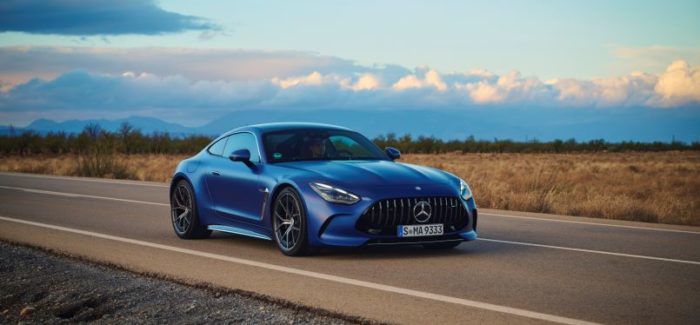 The original AMG GT was once grounded on a shorter SLS AMG platform, but now, it finds its roots intertwined with the new SL roadster, both standing on a sturdy aluminum foundation. This change led to a shift in the car's mechanics – the rear dual-clutch transaxle that set the previous model apart has been replaced by a more conventional nine-speed multi-clutch gearbox. Additionally, it appears that the dry sump oiling system, which allowed the original AMG GT's engine to sit lower in the chassis, has been bid farewell, paving the way for the adoption of all-wheel drive. Unlike its predecessor, which was exclusively rear-wheel drive, the 2024 model embraces a new era by offering all-wheel traction. Notably, the 2024 iteration boasts increased dimensions in every aspect compared to its predecessor.
Under the hood, the engine remains a familiar 4.0-liter twin-turbo V-8, a powerplant that AMG has trusted for several years. In the entry-level GT 55, the engine churns out 469 horsepower and 516 lb-ft of torque. In contrast, the GT 63, the model we have here, cranks up the power to 577 horsepower and 590 lb-ft of torque, aligning itself with the old AMG GT R's figures. Furthermore, the new nomenclature simplifies the model's identity, replacing the puzzling all-letter naming system of the previous generation and aligning it with the SL.
Mercedes claims that the GT 63 can dash from 0 to 60 mph in a brisk 3.1 seconds, with a top speed reaching 196 mph. Meanwhile, the GT 55 takes a slightly longer 3.8 seconds to reach 60 mph and tops out at 183 mph. The all-wheel-drive system comes with full variability, capable of redistributing torque, sending up to 50 percent to the front axle or a full 100 percent to the rear. This feature ensures that the GT still retains its playful rear-wheel-drive characteristics, allowing for enjoyable, controlled drifts and spirited driving experiences.
Today's Other Videos: