No Comments
01/20/2022 DPCcars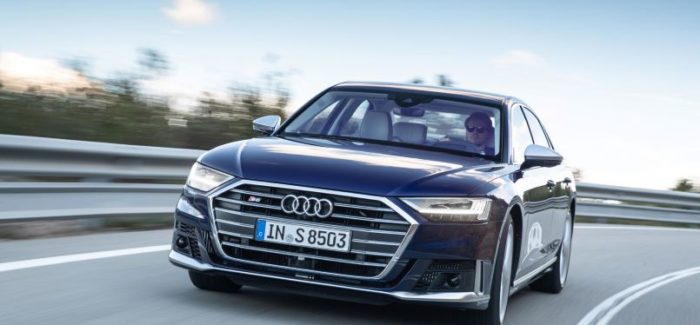 The new Audi S8 combines progressive luxury with dynamic athleticism while honing its reputation as the benchmark for Vorsprung durch Technik with innovative suspension systems. Its 4.0 TFSI engine – a biturbo eight-cylinder unit – produces 420 kW (571 hp) and an opulent 800 Nm (590 lb-ft) of torque. It is combined with MHEV technology for the perfect symbiosis of efficiency and comfort with exhilarating performance. The predictive active suspension, dynamic-all-wheel steering and quattro drive with sport differential provide for outstanding vehicle dynamics straight from the factory. The new Audi S8 uses specific design elements to express the sporty elegance of the sophisticated luxury sedan with pinpoint precision.
Exterior-wise, the S8 is properly subtle. Aside from the fancy five-spoke wheels and S badging front and back, only a keen eye would spot the slightly more aggressive front fascia with redesigned corner intakes. Things are a bit more obvious at the rear, where a set of quad exhaust tips replace trapezoid outlets on the A8.
Upgrades are similarly understated inside, with the S8 getting an exclusive upper inlay made of Carbon Vector that creates a special 3D effect. Matte aluminum trim and diamond-stitched seats with embroidered S badging also set the super sedan apart from the A8, and the cockpit is just as jam-packed with digital screens and tech. In fact, Audi says a fully optioned S8 has no less than five radars, six cameras, twelve ultrasound sensors, and yes, a laser scanner.
Today's Other Videos: