No Comments
Lamborghini Huracán Sterrato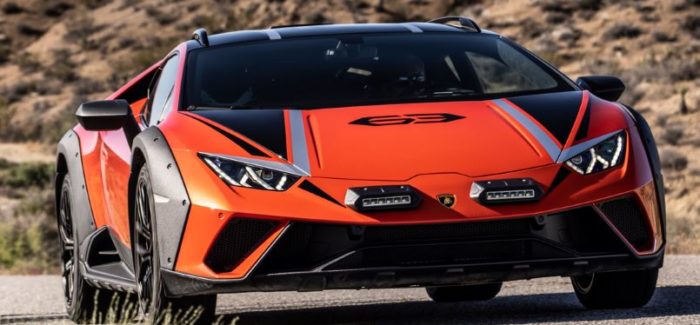 The incredible diversity of California's landscapes presents an ideal setting to truly embrace the dynamic essence of the Huracán Sterrato. From traversing asphalt to conquering sand, this exceptional vehicle showcases its versatility on both roads and raceways.
Embarking on a journey along the picturesque routes of the extraordinary Joshua Tree National Park, adventurers are treated to the luxurious comfort of the Sterrato's driving experience on smooth asphalt surfaces. However, the real thrill awaits as they switch to Rally mode and tackle the exhilarating dirt tracks of Chuckwalla Valley Raceway. Spanning approximately 4 kilometers, this circuit in the Coachella Valley desert seamlessly blends traditional tarmac with sections of dirt, providing a true test for the Huracán Sterrato's remarkable performance in diverse environments. Its meticulously optimized vehicle dynamics ensure impeccable control on all surfaces, underscoring the Lamborghini brand's pioneering and unconventional approach.
At first glance, the Sterrato's adventurous character becomes evident. With an increased ground clearance of 44mm compared to the Huracan EVO, it boasts enhanced suspension travel, allowing for a smoother ride over uneven terrain. The widened front and rear tracks, measuring an additional 30mm and 34mm respectively, further contribute to its robust presence. Not only do the reinforced sills, aluminum front underbody protection, rear diffuser, and sturdy wheel arches safeguard the vehicle, but they also accentuate its muscular aesthetic. The distinctive air intakes positioned on the rear bonnet not only enhance the Sterrato's sporty allure but also ensure a clean air supply to the engine when navigating dusty roads. Equipped with 19″ rims fitted with specially-developed Bridgestone Dueler AT002 tires, this exceptional vehicle offers unparalleled adaptability and versatility on any surface and under any condition. The result is optimal driver feedback, exhilaration, and performance.
Having thoroughly explored the wonders of Joshua Tree National Park and pushed the limits of the Sterrato's capabilities at Chuckwalla, the journey continues along a dirt road adorned with the desert's fine sand, leading back to the tranquil ambiance of Palm Springs. Here, the Huracán Sterrato seamlessly adapts to the leisurely pace and elegant avenues, harmonizing with the palm tree-lined surroundings of this exclusive California locale.
Today's Other Videos: