No Comments
650 horsepower supercharged upgrade for the 2023 Cadillac Escalade by Hennessey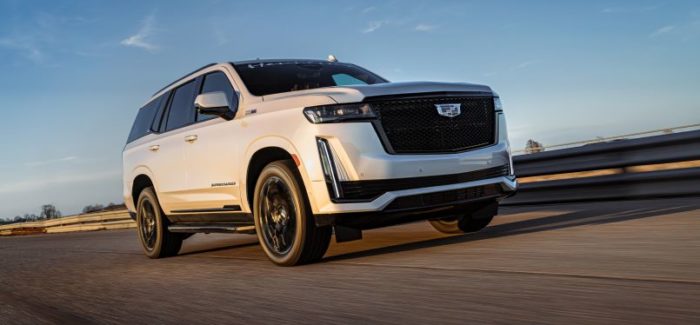 Hennessey is a Texas-based company that is renowned for creating hypercars and high-performance vehicles. Recently, the company has taken the wraps off its latest offering, a performance upgrade package for the Cadillac Escalade, Chevrolet Suburban, Chevrolet Tahoe, and GMC Yukon. This package is designed to enhance the output of vehicles that are equipped with the GM 6.2-liter V8 engine.
The package takes the factory rating of 420 horsepower and increases it to a staggering 650 horsepower. This significant increase in power completely transforms the acceleration and driving dynamics of GM's full-size SUVs. To achieve this increase in power, Hennessey's engineering team fits the GM 6.2-liter V8 (L87 EcoTec3) with a robust 2.9-liter supercharger, high-flow intake system, high-flow intercooler, and a crankcase ventilation system. Additionally, Chromoly pushrods are installed, and the engine management software is updated with HPE engine management calibration. To further enhance performance and sound, a stainless steel cat-back exhaust system (retaining stock exhaust tips) is also installed. The result is a dyno-proven 650 horsepower and 658 lb. ft. of torque.
During the development of the upgrade, Hennessey's 'Supercharged H650 Escalade' achieved a 0 to 60 mph sprint in just 5.3 seconds, leaving the stock Cadillac Escalade, with its slower 6.1-second dash, in the rearview mirror. Likewise, the quarter-mile run falls in just 13.5 seconds, a full second quicker than stock. The increased power is accompanied by a more robust full-throttle exhaust note, perfectly complementing the SUV's enhanced performance.
Hennessey's 'H650' upgrade is available for a range of GM SUVs equipped with the 6.2-liter V8, regardless of trim level. These vehicles include the 2021 and newer model years of the Cadillac Escalade, Cadillac Escalade ESV, Chevrolet Suburban, Chevrolet Tahoe, GMC Yukon, and GMC Yukon XL. The package is designed to cater to those who are looking to add more power and performance to their GM SUVs while retaining the stock exhaust tips. It is a great way to enhance the driving experience and give the SUV a more aggressive look.
Today's Other Videos: