No Comments
2024 Porsche 718 Spyder RS Revealed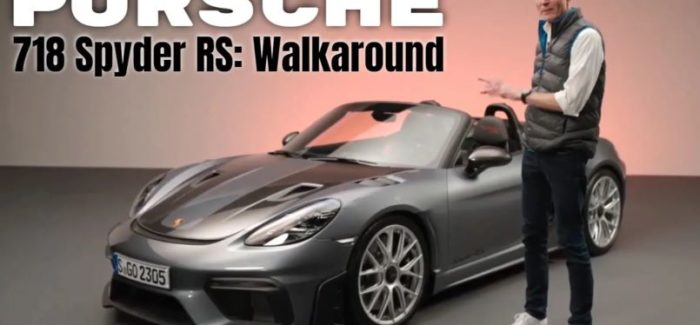 The Porsche 718 Spyder RS is an intriguing automobile, showcasing a paradoxical blend of predictability and excitement. Essentially a Cayman GT4 RS minus its roof, this mid-engined beauty comes with a detachable, manually operated fabric canopy serving as a single-layer sun shield and wind barrier. Astonishingly, the canopy, together with the wind barrier, weighs just 40.3 pounds (18.3 kg), making it 16.7 lbs (7.6 kg) lighter than the 718 Spyder and 36.3 lbs (16.5 kg) lighter than the 718 Boxster.
As for its mass, the novel 718 Spyder RS clocks in at 3,108 lbs (1,410 kg), shedding 88 lbs (40 kg) compared to the non-RS version. Nonetheless, it bears a striking resemblance to its coupe sibling, with a lowered height of 1.18 inches (30 mm) and 20-inch forged wheels (optionally replaceable with magnesium).
However, it's important to note that Porsche has clarified that the Spyder RS is not an exact replica of the Cayman GT4 RS, featuring unique tuning for its springs and dampers, which ensures a smoother and more comfortable ride for convertible enthusiasts. The mid-engined marvel can even be equipped with the Weissach Package, featuring exhaust tips inspired by the 2018 935 race car, also known as "Moby Dick."
The Spyder RS shares the same 4.0-liter, naturally aspirated engine found in the 911 GT3, and like its coupe counterpart, it delivers an impressive 493 horsepower and 331 pound-feet (450 Newton-meters) of torque to the rear axle through a seven-speed PDK. These impressive stats allow for a 0 to 62 mph (100 km/h) sprint in just 3.4 seconds and a 0 to 124 mph (200 km/h) dash in 10.9 seconds, mirroring the Cayman GT4 RS. It can also attain a top speed of 191 mph (308 km/h), a mere 4 mph (7 km/h) shy of the coupe.
Customers in Germany can order the Spyder RS with a starting price of €151,215, while American customers can purchase it at $160,700, plus a $1,450 delivery fee. The car also comes with a complementary titanium-cased timepiece for the ultimate 718 experience. The car's public unveiling is scheduled for the Goodwood Festival of Speed in July, with deliveries set to begin simultaneously.
Today's Other Videos: