No Comments
2024 Lexus LM Luxury Minivan Interior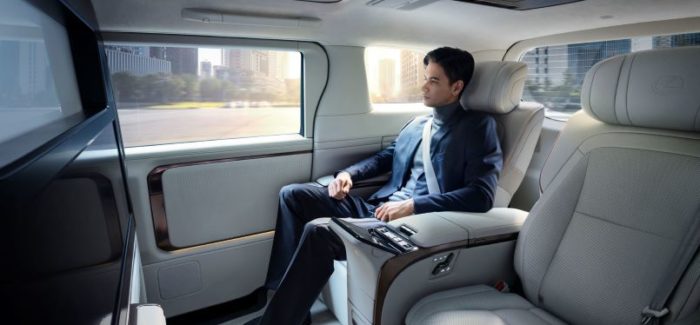 Indisputably, the Lexus LM has emerged as a head-turner at Auto Shanghai 2023. Progressing into its second generation, this lavish minivan breaks away from its China-only exclusivity and is slated to be introduced in over 60 countries across the globe under Toyota's upscale division. While Europe and Japan eagerly anticipate this classy conveyance, the United States will not partake in the renewed model.
The 2024 LM unveils a thoroughly revamped, imposing body-colored front grille, and the rear insignia has been superseded by striking "LEXUS" characters. Despite the vehicle's augmented proportions – 201.7 inches in length, 74.4 inches in width, and 77 inches in height – its 19-inch wheels may seem somewhat understated. The latest iteration outdoes its predecessor, extending 3.1 inches, widening 1.5 inches, and rising 0.4 inches, all while maintaining the 118.1-inch wheelbase.
This authentic minivan comes with sliding doors and a generous interior, offering three-row layouts with options for six or seven seats. A sumptuous two-row model, featuring a mere four seats, is tailored to function as a chauffeur-driven MPV. A commanding 48-inch screen, situated in front of the individual rear seats in the two-row version, captivates the space. Lexus emphasizes that this display is intended for more than just entertainment, as it also facilitates virtual gatherings.
The rear compartment houses a refrigerator, storage facilities, and privacy glass boasting two-tier dimming. Passengers can set the tone with a 64-color ambient lighting system, complete with 14 pre-set patterns and 50 customizable shades. A retractable, leather-adorned table rests discreetly within the armrest, ready for deployment.
A pioneering feature is the infrared sensor mounted on the partition's central section. This sensor gauges the temperature of rear passengers' faces, upper bodies, thighs, and lower legs while simultaneously assessing the temperature of windows, trim, and ceiling areas affected by external conditions. The sensor's readings prompt automatic adjustments to the air conditioning system, ensuring prime comfort.
Lexus has been somewhat reserved in disclosing specific powertrain details. However, the 2024 LM will provide a turbocharged 2.4-liter hybrid powertrain and a 2.5-liter hybrid alternative. The minivan displayed in Shanghai is equipped with 225/R19 tires, while the worldwide version will feature smaller 17-inch wheels and 225/65 R17 tires. Torsional rigidity has seen a 50 percent improvement compared to the initial model, and an adaptive suspension system incorporates a frequency-sensitive piston valve within the shock absorber to counterbalance road imperfections.
Today's Other Videos: