No Comments
New 2024 Hyundai Kona Technical Specs Explained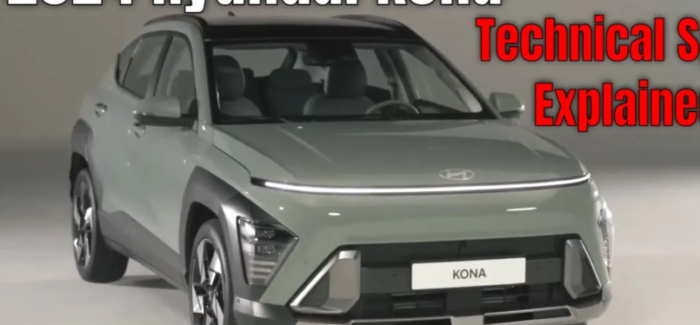 Hyundai has finally released more information and images of the second generation Kona, which was initially unveiled at the end of last year. The new Kona has undergone significant changes in a relatively short period of time since the original model was first introduced less than six years ago.
In South Korea, the new Kona will be available with two engine options. The first is a naturally aspirated 2.0-liter gasoline engine that produces 147 horsepower and 132 pound-feet of torque, which is sent to the wheels via a CVT. The second option is a turbocharged 1.6-liter mill that generates 195 horsepower and 195 pound-feet of torque, and comes with an eight-speed automatic transmission.
Additionally, Hyundai also offers a hybrid version of the Kona, which features a bespoke 1.6-liter unit that works in conjunction with an electric motor to provide "impressive acceleration and high efficiency." The combined output of this hybrid system is 139 horsepower and 195 pound-feet of torque, which is sent to the road through a six-speed, dual-clutch automatic transmission.
The new Kona is also bigger than its predecessor, with a wheelbase that has been stretched by 60 millimeters to 2,660 mm. The overall length of the vehicle has been increased by 145 mm to 4,350 mm, and its width is now 1,825 mm. When fitted with 17-inch tires, the subcompact crossover stands at 1,580 mm tall. These dimensions are for the ICE and hybrid models, and the proportions of the EV version should be quite similar since it will be built on the same platform.
In terms of practicality, the new Kona offers best-in-class shoulder room for rear passengers and a programmable electric tailgate, which allows owners to choose the opening height and the speed at which it opens and closes. The cargo volume with the rear seats folded is 723 liters, and the shift-by-wire gear selector has created a more spacious front compartment with enough space to store big bags. The cabin is also designed to be quieter than before thanks to additional sound-deadening material, double-laminated sound-insulating glass on the windshield, thicker floor carpet, and sound-absorbing tires for the 19-inch wheels.
The new Kona is also equipped with advanced features such as memory seats, wireless charging, and OTA updates, as well as NFC technology that allows the owner to use their smartphone or smartwatch as a digital key. Despite the addition of a pair of 12.3-inch screens, the new Kona still has plenty of physical buttons on the center console to quickly access commonly used functions, providing the best of both worlds by not having to cram everything into the infotainment system or clutter the dashboard with too many physical controls.
Hyundai plans to provide further information about the global model in March, when we will also learn more about the Kona EV.