No Comments
MG Cyberster Electric Sports Car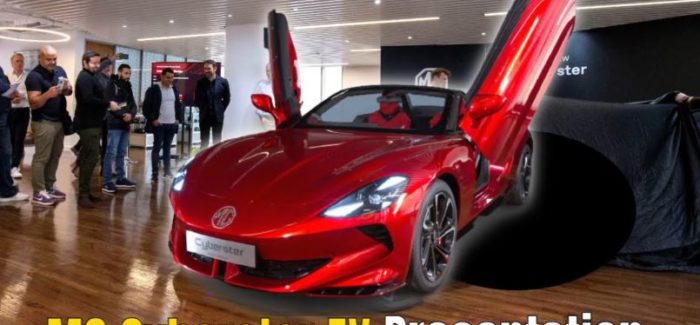 An absolutely captivating event unfolded at the MG Motor UK headquarters situated in the vibrant district of Marylebone, London. It was here that the veiled curtain was finally lifted, revealing an avant-garde pre-production design prototype of MG's groundbreaking sports car, known as the Cyberster. The Cyberster, an automotive masterpiece meticulously crafted by the ingenious hands of Advanced Design Director Carl Gotham and his brilliant team, stood before the world for the first time, leaving spectators in awe.
With great anticipation and ceremonial flair, the covers were gracefully removed, allowing Carl to share his profound thoughts with the gathered audience. He expressed, "This moment is nothing short of extraordinary for all of us who poured our hearts and souls into bringing this unparalleled automobile to life. The Cyberster will bestow MG enthusiasts with an electrifying, all-electric roadster that encapsulates the sheer exhilaration reminiscent of MG's legendary sports cars from days gone by."
To commemorate the imminent arrival of the Cyberster, MG has produced a mesmerizing film that delves deep into the enthralling narrative of its design journey. Narrated by the visionary Carl Gotham himself, the film unveils the arduous odyssey undertaken by his team in crafting a sports car destined to become the pioneering all-electric roadster in the automotive market.
Drawing inspiration from MG's illustrious heritage, the Cyberster's extraordinary aesthetic took shape within the esteemed confines of MG's design studio in the heart of Marylebone, London, under the skillful guidance of Gotham and his accomplished design cohorts. Paying homage to the iconic MG lineage, the design showcases distinctive elements, including a gracefully elongated bonnet, a sleek and low-slung front end, and exquisitely contoured surfaces. In addition to these iconic highlights, the Cyberster will introduce captivating new features such as scissor doors and a cutting-edge Kammback rear design.
As the eagerly awaited two-seater Cyberster approaches its realization, the MG brand reemerges triumphantly into the realm of sports car manufacturing. This exceptional vehicle symbolizes the harmonious fusion of timeless tradition and contemporary innovation, boasting a high-performance all-electric powertrain and a modern cabin adorned with an array of advanced driver technologies. It genuinely epitomizes the seamless blending of past and present, propelling the MG marque towards an electrifying future.
Today's Other Videos: